Northeastern boys' volleyball wins fifth straight state championship
---
Watch: Brillhart, Northeastern bring home PIAA gold
Led by junior outside hitter, Bobcats win fifth straight state crown.
(Teddy Feinberg/GameTimePA.com)
STATE COLLEGE – Northeastern's Dakoda Hoffman made the final swing of his high school career count.
Although he didn't have a lot of kills during Saturday's PIAA Class 2A boys' volleyball championships, the bomb that came off Hoffman's right arm was epic.
The ball smashed into the upper body of a defenseless player from Beaver County Christian, sparking a celebration by Bobcats players and fans that filled the stands at Penn State's Rec Hall.
The point gave the Northeastern its fifth straight state title as the champs topped the Eagles in four sets, 25-13, 25-22, 21-25, 25-20.
More: Northeastern's drive for five may be sweeter than ever before
"It was great to get the kill, but I didn't see that it hit him," Hoffman said. "When I turned around and people were celebrating, it really brought me up. Then when people told me where I hit him … It was amazing."
It is the first time since 1971 that a team won five straight state volleyball titles, when Haverford took home six in a row. Bobcats coach Matt Wilson reflected on a nearly unprecedented run of success.
"Remarkable," Wilson said. "The day I first picked up a clipboard and the day my fellow coaches all came together, I don't think any of us dreamt in our wildest dreams that we would be able to a program to from where it once was to where it is today."
The coach said that Northeastern, which also won its fifth straight District 3 title this season, the quest to return to State College began some time ago.
"It's a destination on the calendar every year for us," he said. "The season started on the bus ride home one year ago today."
After the Bobcats won the first two sets, Beaver County Christian, the District 7 champ, reenergized in the next one. The Eagles' win in the third set was the first time since 2013, that Northeastern lost a set in the state finals.
With the final set tied at 10, Northeastern ran off four straight points, starting and ending with Cole Brillhart kills.
Brillhart led the Bobcats offense with 30 kills, including nine in the final set, to go along with five blocks. He notched four kills during a 7-3 Bobcats' run that closed the match.
"This game and the semifinals were probably two of my better ones," Brillhart said. "I felt pretty good early on."
Wyatt Tyson had 12 kills and Nate Wilson nine. Setter Jacob Cheuvront dished out 56 assists.
"What gets lost in this is even though we are going to celebrate with these guys today, when you win five in a row, that's five senior classes," said Wilson.
"We've always prided ourselves on not building one player, one class, one position, it's the foundation of the entire program. We as coaches have been extremely blessed."
Northeastern had a run of five and two runs of four in a one-sided opening set. Even after the Eagles ran off six straight to take a 16-11 lead in the second set, the Bobcats rallied.
A 7-1 run put Northeastern back in the lead, and although that game would later be tied at 22, kills by Hughes and Brillhart, along with a service error, gave the Bobcats a two-set advantage.
Northeastern trailed for nearly the entire third set, but a Nate Wilson cut the deficit to 23-21 before the Eagles finished things off with a Daniel Townsend kill.
Ironically, the Bobcats opened the 2017 season at Beaver County Christian, the preseason top-ranked team in the state. Northeastern won that match in a sweep.
"We are so blessed to be here. God has greatly blessed our school and these seniors," "Our goal for this year was to get here," an emotional Eagles coach Cristen Adels said.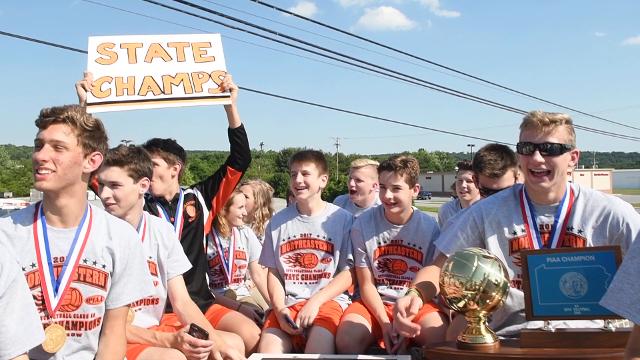 Watch: Northeastern gets grand welcome home
Northeastern was given a tour of Mt. Wolf and Manchester on the back of a fire truck after winning its fifth straight PIAA boys' volleyball crown.
Jeff Lautenberger, for GameTimePA