Sam Emig: Red Lion's storied athlete
---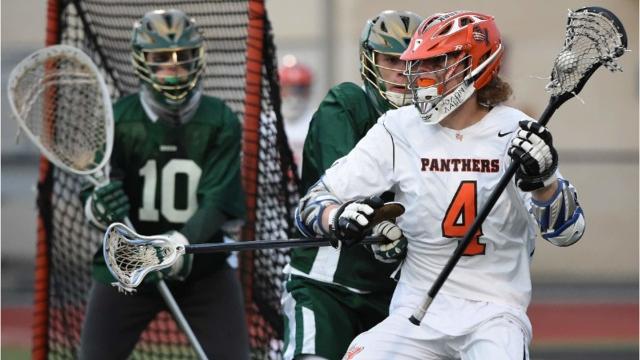 Watch: YAIAA boys' lacrosse players to watch
Here are some of the area's top players entering the 2017 season.
Teddy Feinberg, GameTimePA.com
Sam Emig was at home.
Standing in the middle of Horn Field following Wednesday's practice, he was decked out in lacrosse gear. The nob of the stick was in his left hand, while the head rested on his shoulder.
Emig answered questions modestly, and gave way to the occasional smile.
One of the area's top athletes was in his element.
"I do a lot of stuff for the community," Emig said. "Any sports games, I try to get to. Basketball is always a lot of fun to go to, being in the student section."
Lions boys' lacrosse coach Stefan Striffler said Emig embodies Red Lion through and through. He gets good grades, and is popular among his classmates. Striffler said Emig is quiet, shy and humble, a teddy bear off the field and a grizzly bear on it.
"Everybody respects him. And everybody believes in him," Striffler said. "They see what he's done on the football field, what he's done on the lacrosse field. His athletic accomplishments speak for themselves."
Emig, a senior, has had a storied athletic career. In football he played quarterback and rushed for over 900 yards in his only season as a starter. He also led Red Lion to an undefeated regular season, a YAIAA Division I championship and a District 3 playoff appearance.
In lacrosse, he's been the area's elite goal scorer. Emig netted 40 goals as a freshman, over 70 as a sophomore and over 80 as a junior.  Next year, he will play college lacrosse at Eastern University, which is located just outside Philadelphia.
"Not only is he physically absolutely incredible. But his mental approach — he's so quick, and he also has the smarts," said Patrick Daugherty, a teammate of Emig's on the football field. "He always knows what's going on. He never looks surprised out there."
The Lions are using Emig slightly different this season on the lacrosse field.
In years past, Emig was featured more as an off-ball player, working to get open, getting a pass from a teammate and then finishing.
This year the Lions are giving Emig the ball more from the start of the play, and asking him to dodge defenders and create more offensively.
Regardless, at the end of the day, Emig puts the ball in the back of the net. Simply put, he can fire it home.
"Any time you put up 200 goals in a career, it's impressive," said Dallastown head coach Joe Slessinger. "A goal scorer for sure."
Slessinger was complementary to all who suit up for the Lions boys' lacrosse team, but acknowledged when preparing for Red Lion the game plan typically centers around Emig.
"It starts with Sam, you hit everyone else, and then it ends back on him," Slessinger said.
Emig will play next year at Eastern University, a Division III college lacrosse program.
Both Striffler and Eastern coach Kevin Wallace said they believe Emig was under-recruited coming out of high school.
Wallace said York County is starting to produce really good players, yet it is still emerging on the high school lacrosse scene. He added that, while at Rock Lacrosse Club in Baltimore, Emig did not play for the club's top team, which may have caused him to be overlooked in the recruiting game.
With that, however, Wallace said Emig could come in and carve out an immediate role as a freshman at Eastern.
"Long term," Wallace continued, "he could potentially be one of the better offensive players to ever be here."
Striffler, who recently saw Eastern play at York College, concurred.
"I texted one of my assistants after and I said, 'Eastern's best attackman plays for Red Lion this spring,'" Striffler said. "He is going to light it up. … Eastern is getting a steal."
Emig said that growing up, outside of the occasional family trip, he didn't venture outside of York County often. With that, he said going away to college figures to be an adjustment, although one he's looking forward too.
"I think it'll be a little difficult at first. But I feel like the team at Eastern, it'll make it easier for me," Emig said. "Just start another family over there, and make more friends."
Daugherty reflected on how following Red Lion football games, Emig would approach youth players from the community, shake their hands and talk to them about their footballl aspirations. He described the quarterback's team-first attitude, and the respect he shows his teachers and peers. Daugherty has no doubt his good friend will succeed at his next stop.
"He's going to go out there and do extremely well, not just in sports but also academically," Daugherty said. "On the lacrosse field, I think York County is going to see a lot of things in the paper about him doing really well. He's just going to rep York County really well, and he's going to rep Red Lion really well."