Son of NFL player seeks stardom -- on lacrosse field
---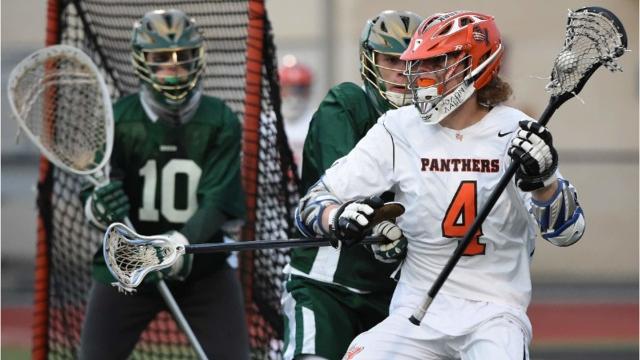 Watch: YAIAA boys' lacrosse players to watch
Here are some of the area's top players entering the 2017 season.
Teddy Feinberg, GameTimePA.com
Correction: Dom Particelli's name was misspelled in an earlier version of this story.
It was 10 minutes before game time when Eastern York sophomore Demonte Martin bounded up to the press box.
The Golden Knights were hosting Spring Grove, and the outgoing and personable Martin wanted the scoop on the Rockets' boys' lacrosse team.
Once he heard the rival team's highlights, a smile crossed his face.
"Yeah, well we got Cole Witman," Martin countered. "You can't miss him."
Yes, Witman. Of course. The name rings a bell and resonates in Wrightsville and throughout all of York County, for that matter.
That's in large part due to Cole's father, Jon, who starred at Eastern York. Jon would attend Penn State as a football player, then took the field for six seasons (1996-2001) as an NFL fullback with the Pittsburgh Steelers.
Cole is just a sophomore at Eastern, but his presence is undeniable.
"He has this type of swagger in school," said Martin, Witman's teammate on the football field. "He's really quiet. You can tell he's determined on what he's doing."
Cole Witman stands at 6-foot-2, and weighs 185 pounds. He's big and rangy, strong with speed, a tough player with fast footwork.
He has long hair that resembles Thor and is working on a formidable beard. Witman turned 16 on Sept. 6, but if one didn't know, he could be mistaken for 21. This despite the fact that he just started driving.
"When they first look at him, they don't believe what grade he's in," Jon Witman said on Thursday night, watching from the stands as the Golden Knights battled the Rockets. "Trust me. We have a backup birth certificate with us, everywhere we go."
Clearly Cole has the pedigree. And it never hurts when your father is a former professional football player.
The two workout together throughout the year: Mondays and Fridays are reserved for strength training, while Wednesdays they hit the strip set. Tuesdays and Thursdays, the father-son duo do circuit-set workouts.
Six weeks before the start of Golden Knights' football training camp, the pair will begin working on the power lift in preparation for the gridiron.
College aspirations
Following in the footsteps of his father can be a tough challenge, Cole acknowledged. But it also has benefits, particularly when one is in pursuit of athletic stardom.
"He brings everything that he learned from the highest level that you could possibly play," Cole said. "Gives it to me and pushes me every day to make myself better, to reach my goals."
The goal for Cole is to play Division I lacrosse at a premier program. He has already made a verbal commitment to the University of Virginia, one of the country's elite teams. Soon, he will pay a visit to Penn State and Johns Hopkins universities as he keeps his options open, he said.
Such a turn of events puts Cole in the catbird seat. And it also brings up an interesting case study in college recruiting.
For all of Cole's physical attributes, his production on the field has yet to match his vast physical potential.
As a freshman last year, Cole estimated he scored about 25 goals for the Golden Knights. That was well off the leaderboard – teammate Dom Particelli netted 36 goals and dished out 25 assists as an Eastern York junior.
A further comparison: Red Lion's Sam Emig led the YAIAA last year with 74 goals (his second-straight year surpassing the 70-goal plateau). Tanner Bolton netted 63 as a junior at Spring Grove, while Collin Mailman of York Suburban scored 60 as a senior.
All are great local products.
Yet only one of the above-mentioned athletes are currently Division I college prospects. That would be Mailman, who is in his first year at Drexel University.
Yes, Witman is just a sophomore. Yet it's that youth and his physical measurements, the level of his game and where it could potentially go, the idea that he hasn't hit his proverbial ceiling — which could potentially be sky high — that has top-end college programs taking notice.
"His size is getting him more looks than the norm," Jon said. "Say he was 5-9 or 5-10. If he was still producing the same, we would have to push to get him seen probably."
Still, Jon was quick to point out his son has the prerequisite skill set to eventually hit his athletic high note.
"He could be that big. But if he didn't have any ability, it wouldn't mean anything."
The club scene
Exposure never hurts. And while Witman plays at Eastern York during the spring sports season, he also takes the field for The Dukes Lacrosse Club, a premier club team based out of Philadelphia. The team attracts players from throughout the country and has coaches with wide-ranging backgrounds in the sport.
The difference at high-level club lacrosse is simply opportunity, said York Suburban head coach Luke Beam. On any given night in York County, there are one to two high-caliber players taking the field in a YAIAA game, Beam said. At a high-end summer club tournament, however, Beam said five to 10 such players are on each team, and college scouts can witness up to 30 games a day.
"Those high-end summer and fall tournaments are extremely valuable for evaluation," Beam said.
College lacrosse coaches also can't typically make recruiting rounds during the high school season, primarily because their college programs are in competition during the same time of year.
It's in the summer – during club season – when the recruiting game picks up considerable steam.
"It's totally different lacrosse," Jon Witman said.
"That's how you get noticed. ... There's tons of (college) coaches."
Cole wants to get better in all areas of his game – stick handling, shooting and dodging defenders are at the top of his list, he said.
Jon said his son could still rev his engine up a tick or two as well.
"He excels if somebody else is pushing him. He's still not there on him being able to push himself through stuff," Jon said. "When he's pushed by somebody? He's incredible."
For Martin, Witman's potential is apparent.
"On the field, even when we're at practice, everything's fast, hard and exciting," Martin said. "Everything is moving fast, strong, athletic. You can just tell."