YAIAA boys' lacrosse: Typical teams at the top
---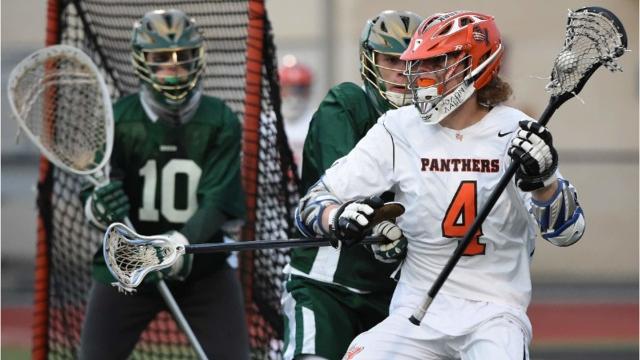 Watch: YAIAA boys' lacrosse players to watch
Here are some of the area's top players entering the 2017 season.
Teddy Feinberg, GameTimePA.com
Year after year, YAIAA boys' lacrosse is a model of consistency.
At or near the top, typically, is Central York and Susquehannock.
A small handful of teams also tend to emerge. Last year, York Catholic and Red Lion fit those descriptions. All four finished atop the YAIAA standings with 9-2 league records, and the Irish won the league championship.
The Panthers and Warriors followed in the standings with 8-3 divisional records.
Who could emerge this year is anyone's guess.
Dallastown certainly could be in the conversation. The Wildcats must replace standout goalie Jack Marks but, aside from that, return a large chunk of their team that went 11-5 last year and 7-4 in YAIAA play.
"We're still relatively young. We have a lot of juniors returning as starters. But when you can return many of your starters outside of goalie, we're excited about it," said Dallastown head coach Joe Slessinger. "We're looking forward to getting this season underway so we can see what our potential is."
West York, York Suburban, Eastern York and Spring Grove could also find themselves in the hunt.  All four of those teams finished last season close to .500 in league play.
They were followed in the standings by New Oxford (2-9 record), South Western (1-10) and Kennard-Dale (0-11).
"You have your Red Lions, your Dallastowns, your Central Yorks that are much bigger schools with a bigger sample size. All those teams hold tryouts," said Spring Grove coach Scott Toman. "Then you have those middle schools that have your talent waves… . A little more peaks and valleys. A few of them will step up and challenge."
As for the top contenders from a season ago:
York Catholic must replace a large contingent of talent that left the  program. One standout does return, however — that would be Eli Doyle, who tallied close to 50 goals last season.
Head coach Shane Harper said while the team did lose a number of talented players from a season ago, he currently has 15 seniors on the 2017 roster and believes the Irish can sneak up on the opposition.
"We do have some talent," Harper said. "Offensively, we should be able to put some points on the board, but we have to stop the other team. That's what it comes down to."
Red Lion also brings back a high-impact player. Sam Emig, who starred at quarterback for the Lions on the football field last fall, led YAIAA lacrosse with 74 goals last year.
"His production is off the charts," said Red Lion head coach Stefan Striffler. "And it's just going to continue… . It's great to have a kid that you know you can rely on."
Central York is young but expects to have talent. T.J. Ross returns after topping 50 goals last year, but head coach Thomas Mayne said just four seniors make up his 43-player roster.
"That's the flavor of our maturity this year," Mayne said. "Where do we stand? I think we'll be competitive again for our area. Certainly we have expectations to compete in the county and compete in districts."
Susquehannock lost some quality pieces from a season ago. With that being said, the team returns senior attacker Jack Allred and is annually one of the area's stronger programs.
"One of our strengths is team chemistry this season. They're a lot of fun to work with," said Warriors' head coach Russ LeBlanc. "When you have good kids that are pretty talented with a great work ethic and who get along, then I think you're capable of accomplishing some good stuff."
Players to watch 
Tanner Bolton, Spring Grove, senior
Sam Emig, Red Lion, senior
TJ Ross, Central York, senior
Cole Witman, Eastern York, sophomore
Kollin Vaught, Central York, junior
Eli Doyle, York Catholic, senior
AJ Lentz, Dallastown, senior
Mason Gauntt, first team all-league, senior
Cody Richter, West York, senior 
Jack Allred, Susquehannock, senior