Offense thrives as Palmyra holds off Chambersburg
---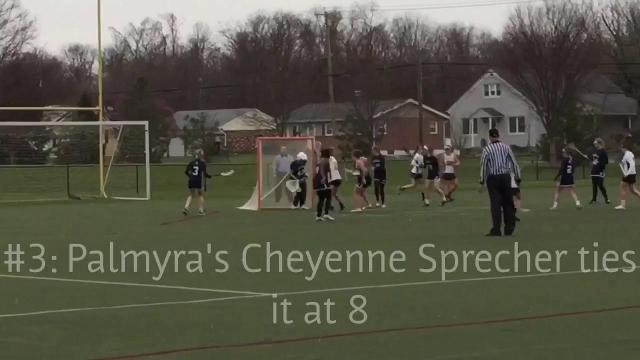 Watch: Chambersburg Palmyra top 5 plays
See the top five plays as the Cougars held off the Trojans 16-15 Thursday.
Matt Catrillo/GameTimePA.com
PALMYRA – One of the top goals coming into the season for the Palmyra girls lacrosse team was creating a more well-rounded offense.
Though they still had to grind it out late in regulation, it's safe to say the Cougars are well on their way to becoming dangerous offensively, after a season-opening 16-15 win over Chambersburg on a cold and rainy Thursday at the In The Net Sports Complex.
After the Trojans cut Palmyra's 16-12 lead to one with 4:43 to go off an Avery Rife goal, the Cougars didn't allow Chambersburg to retain possession in the final two minutes to hang on.
"We just played a smart possession and passed the ball around," said Palmyra coach Jennifer Lutz. "We're pretty good at keeping the ball. I thought we did a great job with the possession in the second half."
The Cougars' instantly clicking offense certainly became vital to keep pace with the pesky Trojans, setting the tone early after jumping out to a quick 4-0 lead in the first four and a half minutes.
Senior Cheyenne Sprecher helped lead the way with five goals and three assists, including a goal with 9:24 remaining which had given her team the four-goal lead before Chambersburg made it interesting late.
"I think I did really well," Sprecher said. "I'm always nervous for the first game. It was good we played together and got the win."
"I expected nothing less from her," Lutz said. "She's a very good offensive generator as well as a scoring threat from us."
It's a solid start for the Cougars' senior, who is coming off a junior season highlighted by scoring her 100th career goal.
Though achieving that milestone gives Sprecher confidence coming into this year, she says her approach hasn't changed.
"It's something I honestly didn't expect to happen, since this isn't my main sport, which is obviously field hockey," she said. "Coming into last season, I didn't really try to do that. It was just by coincidence. So for this season, I'm just using the same mentality, try to have a winning season, and bond with my other seniors before we graduate."
And even though she'll be relied on offensively, Sprecher says that still doesn't think it puts any added pressure on her.
"We have a lot of other really good girls who can score a lot," she said. "We just share it, learn from each other and work together. I think it helps."
A balanced scoring effort was certainly the case, as Paige Frye also helped lead the way for Palmyra with six goals and an assist, along with a hat trick and two assists from Nikki Bowman.
Even with a solid outing offensively like this to start the season, Lutz says there's still more kinks to iron out.
Lutz said, "Most of our goals came off of transition, so we still have a lot of work to do with our settled offense. I felt like we did one-on-one, and scoring on those fast breaks. We'll get back to practice and work on different scenarios and work on more offensive plays. But I think we are in a good place after our first game. We just take it one game at a time."