Shaak pulled from start, Lebanon loses 5th straight
---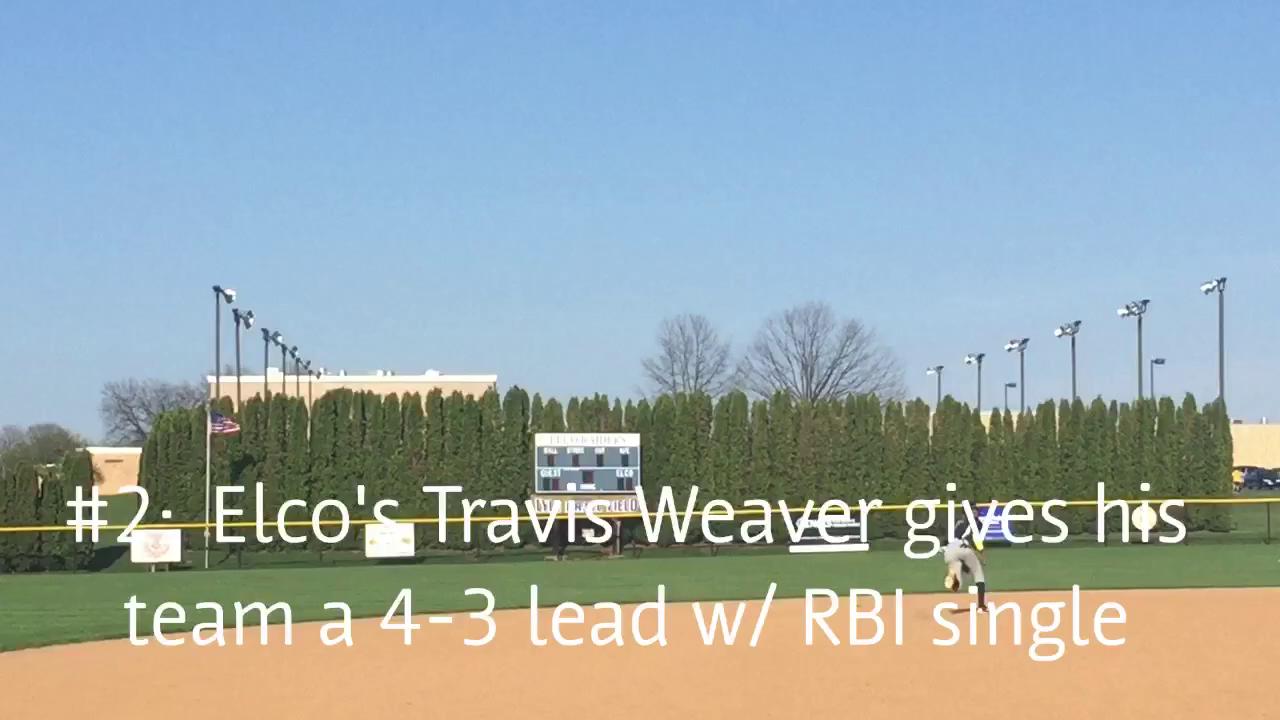 Watch: Lebanon at Elco top 5 plays
See the top five plays as the Raiders beat the Cedars 6-4 Wednesday.
Matt Catrillo/GameTimePA.com
MYERSTOWN – The Lebanon baseball team has certainly had its fair share of adversity so far this season, continuing to drop in the standings.
And when urgency starts to kick in, it's critical to have your best players at the forefront.
Unfortunately for the Cedars, in a big matchup with Elco on Wednesday, they lost a key piece early on, seeing starting pitcher Camryn Shaak pulled from the mound after just five pitches.
Though it had other players step up and found itself in position to steal one, Lebanon ultimately fell short in a 6-4 loss to the Raiders at Elco High School.
"My arm was just a little sore," Shaak said. "It's been an issue the whole year. It was sore every time I threw."
Other than knowing this is something he's had to deal with every season, Shaak didn't really know the cause behind his arm soreness, though many can speculate on what could be some reasons.
Lebanon coach Mike Toomey said, "You take the fact he's a successful basketball player on a successful basketball team, and you take the way our year started with the weather and not getting a chance to get outside to get the reps we needed. We had to take him out, but we didn't want to. But he's a competitor. He'll fight through it."
But bottom line, Shaak didn't feel good at all being helpless in a big game for his team.
"I'm a competitor. It's rough to sit on the bench any time," Shaak said. "We stepped up and fought, but there was nothing I could do."
And when you can't do much on-field, the only thing left is being there for your teammates, which is exactly what Shaak did.
"He did an outstanding job," Toomey said. "He became another coach. He stepped up as a leader, and kept our guys in it. He helped us fight through a lot of adversity today."
One of many players who stepped up was Cody Kissinger, who, after expecting to start Thursday against Lancaster Catholic, went the distance, giving up six runs on five hits, while fanning two and didn't walk a single batter.
"He did exactly what a captain does," Toomey said. "He sucked it up, grabbed a ball and went out and competed. He made them (Elco) put the ball in play, and we didn't make enough plays behind him. But that didn't affect him, either. He kept us in the game."
While Kissinger held things together on the hill, the offense of the Cedars (1-6, 0-5 Section 3), trailing 3-0, started coming out of their shell, coming back to tie the game at three in the top of the third inning, triggered by a miscommunication by the Raiders on a short fly ball to shallow left field.
But after Travis Weaver gave Elco (6-2, 3-2 Section 3) the lead right back with his second hit and RBI of the day, Lebanon responded off an RBI groundout from Joseph Medina, who took over in the lead-off spot for Shaak.
But the Raiders took over off Cedars mistakes, as Dane Miller scored on an error in the fourth, before Clay Hain scored on a fielder's choice in the fifth.
All things considered, Toomey still thinks there's some positives to take away.
"I was extremely proud of how we handled today," Toomey said. "I thought we played tough and with a lot of effort. If we clean up the mistakes, and give that same effort, we're going to win a lot of games."
Weaver led the Raiders with a 2-for-2 day, with two RBI, as Elco snapped a two-game skid that included lackluster losses to Garden Spot and Manheim Central.
"I was confident. I was in a slump, and it's good to get out of it. I'm seeing the ball really good now," Weaver said. "It's always good to drive in runs for your team. It's good to help the team and get them up, after being flat the last couple of games."