Mitchell Long's big day helps A-C hand Mennonite 1st loss
---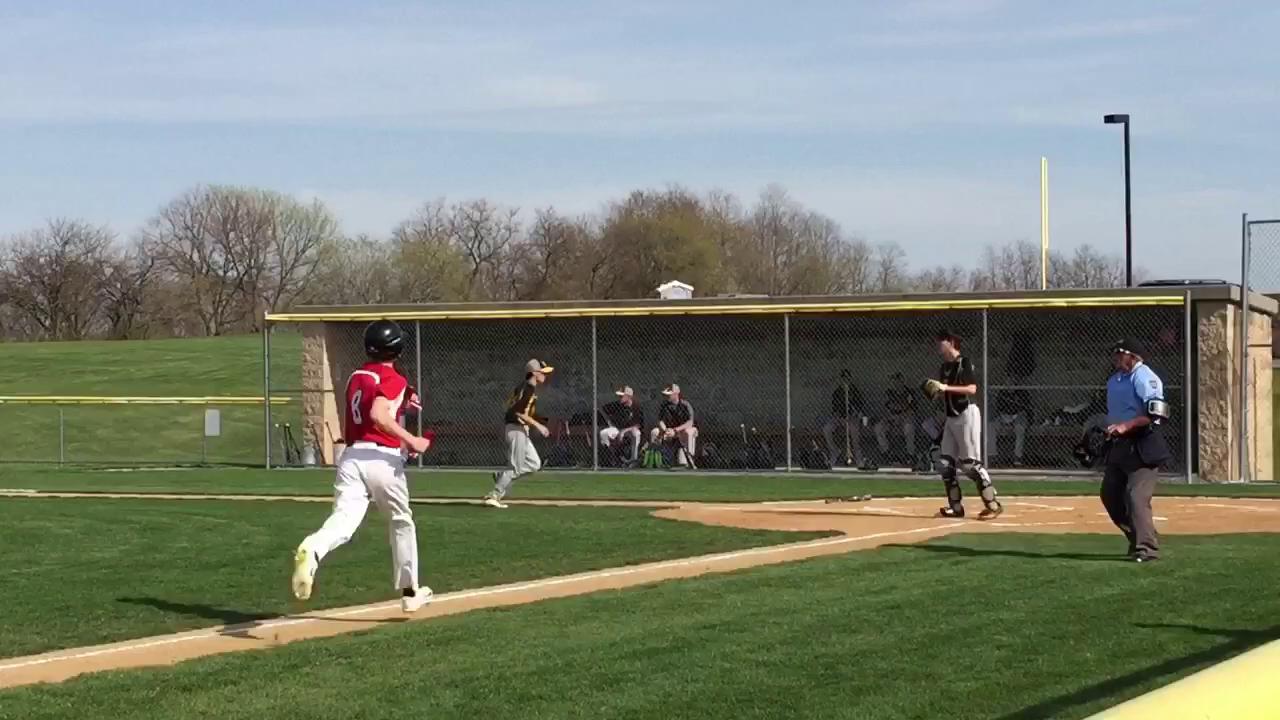 Watch: Mennonite at A-C top 5 plays
See the top five plays from the Dutchmen's 7-2 win over the Blazers Tuesday.
Matt Catrillo/GameTimePA.com
ANNVILLE – After a 2-2 start, the Annville-Cleona baseball team knew it had to start making a move if it wants to see a positive outcome to its season.
There's obviously no better way to jump-start a run by handing first-place Lancaster Mennonite its first loss of the season.
That's exactly what the Dutchmen did, thanks to a solid 7-2 win Tuesday at Annville-Cleona High School for their second consecutive victory.
At the center of it was senior Mitchell Long, who continued his sensational play in all facets of the game.
First, Long earned his second win of the year on the mound, tossing his first complete game, allowing two runs on seven hits, while striking out six - he has totaled 18 K's this season - against a solid Mennonite (4-1, 3-1) lineup. He also didn't allow a hit in the first two innings, while not walking a single batter - he's allowed only five all year.
"My confidence was pretty high," Long said. "I'm used to pitching a lot of big games, so I wasn't fazed by their record. I felt good in warmups and it carried on into the game. My fastball was working, and my slider really helped me throughout the first couple of innings. Then later I got my change-up over, which helped them get off-balance."
Then Long helped out his own cause in a big way, continuing his white-hot start at the plate, finishing 3-for-4 with three RBIs, including one as part of a two-run sixth inning to seal the win, and two doubles.
Tuesday's performance now gives him 16 RBIs, three homers, and four two-baggers already this season.
And being able to help his own cause constantly just makes Long all the more confident.
"The key to that is being patient," Long said. "It helps my confidence get really high. I think it makes the team better, too, because they know my confidence is high, and we had no errors."
The job is certainly made easier for Dutchmen (4-2, 2-2) coach Scott Shyda, having the luxury of coaching a player like Long, who's been massively productive in every aspect of the game.
"I'm not sure I've ever seen an A-C player have the start he's had at the plate," Shyda said. "He goes out and gives you 100 percent when he throws, and you know you're going to be in the game. He's been a great player for us the last three years."
Shyda, definitely seeing potential moving forward, has been impressed with the way his team has approached each game.
"I was very proud of them. The last two games, we've played complete games," Shyda said. "We were much better in the field, got two good pitching performances in a row, and even some of our outs were productive at-bats. Those runs could come back and be the winning run. We knew we were going to have a tough battle with Mennonite. We always talk about playing from the first to last pitch, and the guys are really buying into that mentality."