Kennard-Dale tops Eastern York for district softball crown
---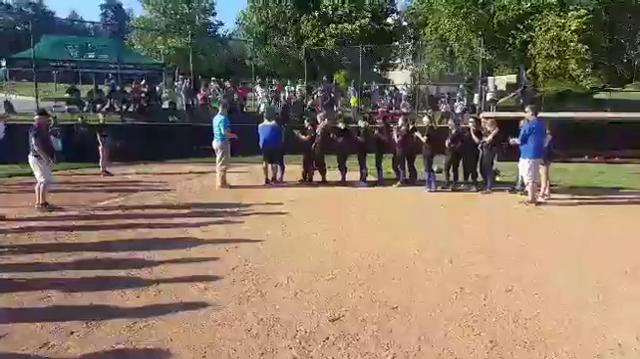 Watch: Kennard-Dale receives District 3 softball medals
Kennard-Dale defeated Eastern York 3-2 to win the District 3 Class 4A softball title.
Tom Sixeas, For GameTimePA
Kennard-Dale's Alexis Hurley laid down a perfect suicide squeeze bunt to score Jaedyn McKeon with the winning run in the bottom of the eighth as the Rams defeated Eastern York, 3-2, in the championship game of the District 3 Class 4A softball tournament Thursday afternoon at Spartan Softball Stadium at York College.
McKeon began the winning rally with a triple to right field, then Lexie Kopko's single between the plate and the mound put runners on the corners. Amber Belt was walked intentionally to load the bases. One out later, Hurley delivered.
"When the ball fell in, I just put my head down and ran," McKeon said. "We've fought all year for this and we knew that we needed just one run to win."
More: District 3 tournament brackets
The win gives the Rams their first district crown since 1990.
"I've had some wonderful teams in my time here, but this is the best team that I've had," eighth-year coach Greg Coulton said. "We have such great chemistry and that goes a long way."
The pitchers, Hurley for the Rams and Maelyn Leber for the Knights, hung all zeroes for the first four frames and neither pitcher threw more than two balls to any hitter before the fifth.
Eastern (16-6) took a 2-0 lead in the fifth when Katie Lehman doubled just inside the left-field foul line to plate Morgan Dobbeck, then Morgan Winter singled in Lehman.
"I wasn't happy with the way that we played early. We play these guys twice a year and I expected to score more runs than we did," Coulton said. "All the credit to Eastern and their pitcher, though. They really made us work for it."
More: Chambersburg leaves no doubt, wins 2nd straight title
K-D (18-3) tied the game in the sixth when Kopko singled in McKeon, and Hurley's ground out then plated Kopko with the equalizer.
"It was definitely tense in the dugout in the sixth when we were behind," Hurley said. "But we have confidence in ourselves that we're never out of a game."
Both hurlers went the distance with Hurley allowing two unearned runs and nine hits to go with seven strikeouts and no walks. She threw 108 pitches, 85 of them were strikes.
Meanwhile, Leber gave up three runs and nine hits with five strikeouts and no walks. She tossed 101 pitches with 66 of them being strikes.
Both teams qualified for the PIAA tournament and will return to action on Monday. K-D will play the District 12 runner-up and Eastern will face the District 12 champion.