CLOSE
PLAYLIST: HIGH SCHOOL FOOTBALL WEEK 3
L-S defeats Conestoga Valley in 2016 Lampeter Bowl | 2:36
After a seesaw battle, the Pioneers were able to edge the Buckskins, 35-26 on Friday, September 16, 2016. Video by John Buffone
1 of 16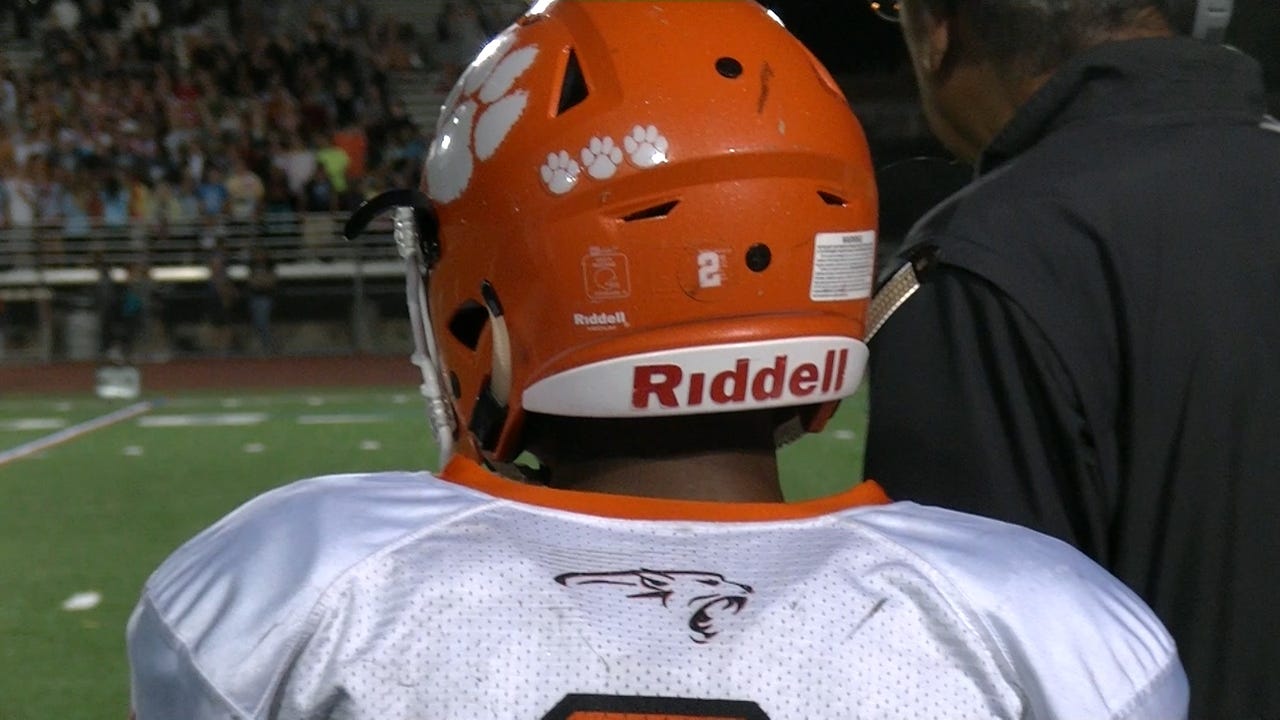 CLOSE
PLAYLIST: HIGH SCHOOL FOOTBALL WEEK 3
Watch: Central York holds off Hempfield | 1:15
Hempfield rallied from a big deficit to close within two points of Central York before the Panthers regrouped for a 48-42 win Friday, Sept. 16, 2016. Jim Seip, GameTimePA.com
2 of 16
CLOSE
PLAYLIST: HIGH SCHOOL FOOTBALL WEEK 3
Watch: Clips from Zach Keffer's GameTimePA Snapchat Takeover | 1:13
Cedar Crest's Zach Keffer takes you takes you through a day in the life of a C.C. Falcons football player. Video by Lindsey Smith
3 of 16
CLOSE
PLAYLIST: HIGH SCHOOL FOOTBALL WEEK 3
Watch: Waynesboro takes down Gettysburg 38-12 | 0:59
Check out highlights of Waynesboro's 38-12 non-league victory over Gettysburg. Video by Lindsey Smith
4 of 16
CLOSE
PLAYLIST: HIGH SCHOOL FOOTBALL WEEK 3
Lancaster Catholic edges out Trinity, 12-10 | 3:17
The Crusaders defeated Trinity, 12-10 on Friday September 16, 2016. Courtesy of LLLeagueSportsVideos.com
5 of 16
CLOSE
PLAYLIST: HIGH SCHOOL FOOTBALL WEEK 3
Watch: Red Lion defeats Chambersburg | 1:09
Red Lion downed Chambersburg 31-10 in week 3 of the high school football season. Lions' head coach Jesse Shay and quarterback Sam Emig talk about the win. Christian Arnold
6 of 16
CLOSE
PLAYLIST: HIGH SCHOOL FOOTBALL WEEK 3
Watch: Dallastown wins "Gold Out" game | 0:56
The Wildcats beat the Penn Manor Comets during a "Gold Out" game to raise childhood cancer awareness. Zach Miller, GameTimePA.com
7 of 16
CLOSE
PLAYLIST: HIGH SCHOOL FOOTBALL WEEK 3
Watch: Annville-Cleona 35, Hanover 26 | 1:34
Hanover dug out of an early hole but couldn't complete the comeback in a non-league loss to Annville-Cleona. George Marinos, For GameTimePA.com
8 of 16
CLOSE
PLAYLIST: HIGH SCHOOL FOOTBALL WEEK 3
Watch: Susquehannock pulls away from Biglerville | 0:35
Susquehannock used a second-half surge to beat Biglerville, 29-14. Tom Sixeas, For GameTimePA.com
9 of 16
CLOSE
PLAYLIST: HIGH SCHOOL FOOTBALL WEEK 3
Watch: Squires crash New Oxford's party, win 35-0 | 1:51
On a night when the New Oxford community was treated to some pregame fun, Delone Catholic focused on the game. Ryan T Provencher
10 of 16
CLOSE
PLAYLIST: HIGH SCHOOL FOOTBALL WEEK 3
Watch: Pregame festivities a promising start for New Oxford | 0:55
Food, fun and fireworks were all part of the pregame tailgate for the Week 3 matchup between Delone Catholic and New Oxford Ryan T Provencher
11 of 16
CLOSE
PLAYLIST: HIGH SCHOOL FOOTBALL WEEK 3
Watch: Colonials, Squires prepare for Week 3 battle | 1:36
New Oxford has big plans for its home opener, but will have to capitalize against Delone Catholic. Ryan T Provencher
12 of 16
CLOSE
PLAYLIST: HIGH SCHOOL FOOTBALL WEEK 3
Watch: Red Lion quarterback discusses offseason sacrifice | 0:29
Sam Emig attended football workouts during lacrosse season in preparation for this season.
13 of 16
CLOSE
PLAYLIST: HIGH SCHOOL FOOTBALL WEEK 3
Video: Zach Keffer to take over GTPA Snapchat | 0:24
This Friday, Cedar Crest's Zach Keffer will have full access to the GameTimePA.com Snapchat. Follow us to see his full takeover. Video by Lizi Arbogast
14 of 16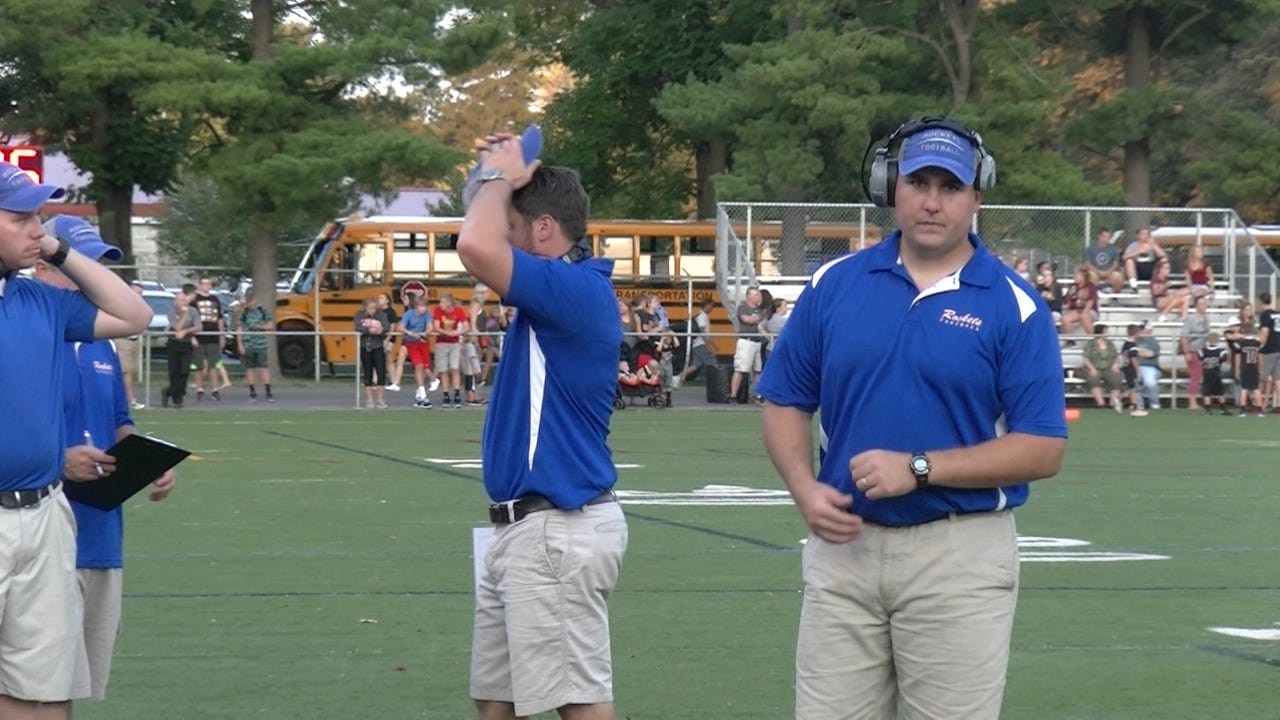 CLOSE
PLAYLIST: HIGH SCHOOL FOOTBALL WEEK 3
Watch: Spring Grove coach enjoying whirlwind season | 0:34
Spring Grove football head coach Kyle Sprenkle has had a whirlwind start to the season. His team won its opener Sept. 2. He and his wife welcomed twins into their lives Sept. 4. And Spring Grove won again in Week 2 on Sept. 9. Jim Seip, GameTimePA.com
15 of 16
CLOSE
PLAYLIST: HIGH SCHOOL FOOTBALL WEEK 3
Watch: Franklin Co.Two-Minute Drill- Week 3 | 2:04
Sports reporters Lizi Arbogast and Lindsey Smith break down the P.O. Game of the Week and Week 3 Game Changers. Video by Lindsey Smith
16 of 16
Last Video
Next Video
L-S defeats Conestoga Valley in 2016 Lampeter Bowl

Watch: Central York holds off Hempfield

Watch: Clips from Zach Keffer's GameTimePA Snapchat Takeover

Watch: Waynesboro takes down Gettysburg 38-12

Lancaster Catholic edges out Trinity, 12-10

Watch: Red Lion defeats Chambersburg

Watch: Dallastown wins "Gold Out" game

Watch: Annville-Cleona 35, Hanover 26

Watch: Susquehannock pulls away from Biglerville

Watch: Squires crash New Oxford's party, win 35-0

Watch: Pregame festivities a promising start for New Oxford

Watch: Colonials, Squires prepare for Week 3 battle

Watch: Red Lion quarterback discusses offseason sacrifice

Video: Zach Keffer to take over GTPA Snapchat

Watch: Spring Grove coach enjoying whirlwind season

Watch: Franklin Co.Two-Minute Drill- Week 3
CARLISLE — South Western but moved the ball at will against Carlisle on Friday night, but the Mustangs gave up several big plays on defense and dropped a 21-9 decision.
South Western (1-2 ) got good running back production from Thaddeus Davis and DeLunche Shaw and some aerial yards from Drew Hartlaub, but the Mustangs couldn't find the end zone. Shaw and Davis combined for 104 yards rushing. Hartlaub caught three passes for 34 yards and rushed nine times for 14 yards.
The Mustangs started the game with a 13-play drive that resulted in a fumbled snap on a field goal attempt. Nate Van Campen intercepted a Thundering Herd pass, but Carlisle snuffed out a fake punt attempt by the Mustangs.
Gavyn Barnes raced 42 yards with pitchout when he appeared to be stopped in the backfield before Eric Harris took a bootleg 3 yards for a score.
Prince Gaye took a Herd handoff through the middle, cut left and outraced the Mustang secondary for a 40-yard score.
"I told the kids I was very proud of their effort and intensity," Mustang coach Damion Poalucci said. "I don't know that they stopped us very often: We stopped ourselves with fumbles, bad reads, or penalties. We also didn't do a good job of tackling. We were in position to make the plays but we didn't get the ball carrier to the ground. We did play good defense overall."
Barnes raced 56 yards with the second half kickoff before Harris found Nate Barnes from 39 yards out for a score on the first play of the second half.
South Western got on the board when Van Campen snuck one in from the 1-yard line.
The Mustangs later had a first down at the Carlisle 10 but couldn't punch it in.
Harris fumbled a punt in the end zone and had to fall on it for a safety in the final minute.
"We didn't play well at all and it certainly wasn't pretty," Carlisle head coach Pat Conrad said. "We did do a good job of tackling, but they did a really good job of coming out in a different front and forced us to adjust to them. They ran the ball down our throats but we ended up making some good defensive plays to keep them out of the end zone. We do need to do a better job of stopping the penalties and silly plays if we want to keep winning games."
Carlisle 21, South Western 9
South Western_ 0_ 0_ 7_ 2_ — _ 9
Carlisle_ 7_ 7_ 7_ 0_ — _ 21
First Quarter
Car — Eric Harris 4-rush (Caleb Richwine kick), 23.1
Second Quarter
Car — Prince Gaye 40-rush (Richwine kick), 6:28
Third Quarter
Car — Nate Barnes 39-pass from Harris (Richwine kick), 11:40
SW — Nathan Van Campen 1-rush (Wes Sneeringer kick), 1:21
Fourth Quarter
SW — Safety, Harris downed ball in end zone, 35.6
Team Statistics
_ SW_ Car
First downs _ 13_ 10
Rushes-yards _ 46-171_ 21-105
Passing _ 8-15-0_ 9-14-1
Passing yards _ 69_ 128
Total yards _ 240 _ 233
Punts _ 4-36.0_ 5-22.0
Fumbles-lost _ 2-1_ 2-1
Penalties-yards _ 5-41_ 3-32
Individual Statistics
Rushing — South Western, Nathan Van Campen 13-34;  DeLunche Shaw 9-38; Thaddeus Davis 10-66;  Drew Hartlaub 9-14; Austin Snyder 2-3; Teian Moore 3-16. Carlisle, Nathan Barnes 2-(-7); Gavyn Barnes 1-42; Rojen Porcopio 7-13, Prince Gaye 3-51; Eric Harris 4-0; Kyshawn Trinidad4-6.
Passing — South Western, Nathan Van Campen 8-15-0, 69 yards.  Carlisle- Eric Harris 9-14-1, 128 yards
Receiving — South Western, Brandon Zumbrun 2-14; D. Hartlaub 3-35, D. Shaw 2-14; Teian Moore 1-6.   Carlisle- Gavyn Barnes 5-59; Nate Barnes 3-62; Porcopio 1-7.
Read or Share this story: http://gtpa.co/2d7aqgg