CLOSE

PLAYLIST: HIGH SCHOOL FOOTBALL WEEK 3
L-S defeats Conestoga Valley in 2016 Lampeter Bowl | 2:36
After a seesaw battle, the Pioneers were able to edge the Buckskins, 35-26 on Friday, September 16, 2016. Video by John Buffone
1 of 16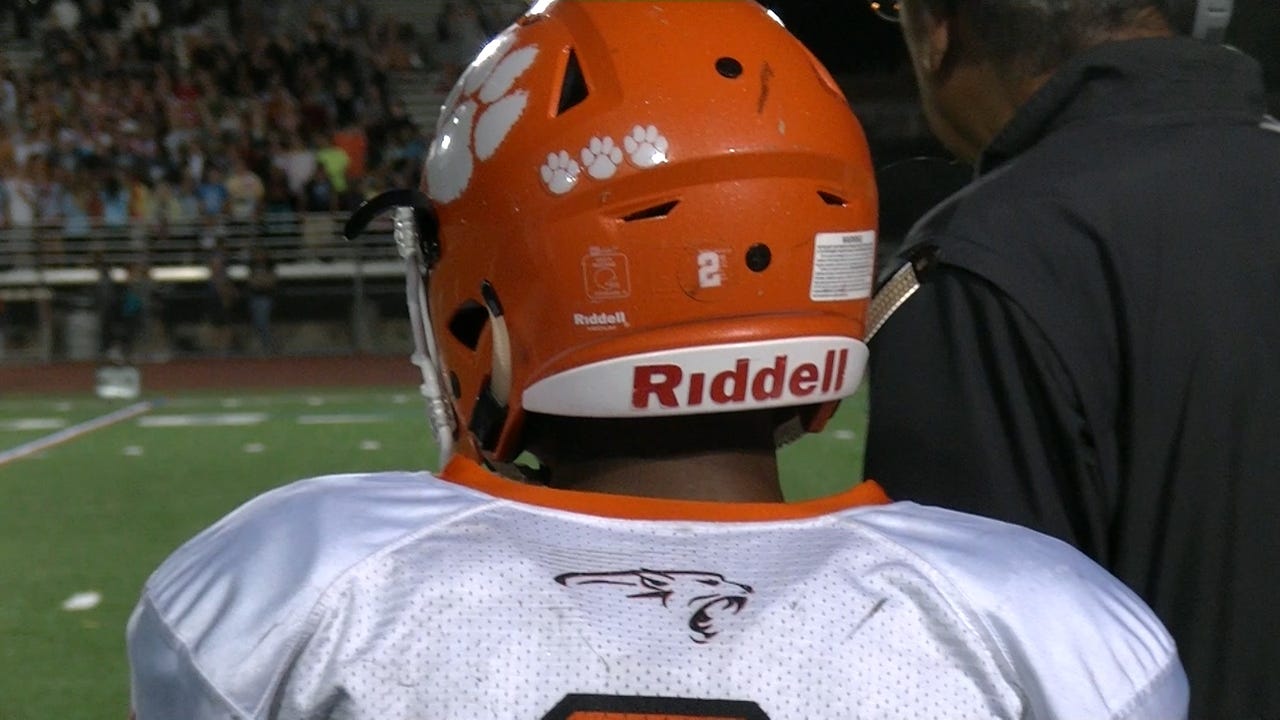 CLOSE

PLAYLIST: HIGH SCHOOL FOOTBALL WEEK 3
Watch: Central York holds off Hempfield | 1:15
Hempfield rallied from a big deficit to close within two points of Central York before the Panthers regrouped for a 48-42 win Friday, Sept. 16, 2016. Jim Seip, GameTimePA.com
2 of 16
CLOSE

PLAYLIST: HIGH SCHOOL FOOTBALL WEEK 3
Watch: Clips from Zach Keffer's GameTimePA Snapchat Takeover | 1:13
Cedar Crest's Zach Keffer takes you takes you through a day in the life of a C.C. Falcons football player. Video by Lindsey Smith
3 of 16
CLOSE

PLAYLIST: HIGH SCHOOL FOOTBALL WEEK 3
Watch: Waynesboro takes down Gettysburg 38-12 | 0:59
Check out highlights of Waynesboro's 38-12 non-league victory over Gettysburg. Video by Lindsey Smith
4 of 16
CLOSE

PLAYLIST: HIGH SCHOOL FOOTBALL WEEK 3
Lancaster Catholic edges out Trinity, 12-10 | 3:17
The Crusaders defeated Trinity, 12-10 on Friday September 16, 2016. Courtesy of LLLeagueSportsVideos.com
5 of 16
CLOSE

PLAYLIST: HIGH SCHOOL FOOTBALL WEEK 3
Watch: Red Lion defeats Chambersburg | 1:09
Red Lion downed Chambersburg 31-10 in week 3 of the high school football season. Lions' head coach Jesse Shay and quarterback Sam Emig talk about the win. Christian Arnold
6 of 16
CLOSE

PLAYLIST: HIGH SCHOOL FOOTBALL WEEK 3
Watch: Dallastown wins "Gold Out" game | 0:56
The Wildcats beat the Penn Manor Comets during a "Gold Out" game to raise childhood cancer awareness. Zach Miller, GameTimePA.com
7 of 16
CLOSE

PLAYLIST: HIGH SCHOOL FOOTBALL WEEK 3
Watch: Annville-Cleona 35, Hanover 26 | 1:34
Hanover dug out of an early hole but couldn't complete the comeback in a non-league loss to Annville-Cleona. George Marinos, For GameTimePA.com
8 of 16
CLOSE

PLAYLIST: HIGH SCHOOL FOOTBALL WEEK 3
Watch: Susquehannock pulls away from Biglerville | 0:35
Susquehannock used a second-half surge to beat Biglerville, 29-14. Tom Sixeas, For GameTimePA.com
9 of 16
CLOSE

PLAYLIST: HIGH SCHOOL FOOTBALL WEEK 3
Watch: Squires crash New Oxford's party, win 35-0 | 1:51
On a night when the New Oxford community was treated to some pregame fun, Delone Catholic focused on the game. Ryan T Provencher
10 of 16
CLOSE

PLAYLIST: HIGH SCHOOL FOOTBALL WEEK 3
Watch: Pregame festivities a promising start for New Oxford | 0:55
Food, fun and fireworks were all part of the pregame tailgate for the Week 3 matchup between Delone Catholic and New Oxford Ryan T Provencher
11 of 16
CLOSE

PLAYLIST: HIGH SCHOOL FOOTBALL WEEK 3
Watch: Colonials, Squires prepare for Week 3 battle | 1:36
New Oxford has big plans for its home opener, but will have to capitalize against Delone Catholic. Ryan T Provencher
12 of 16
CLOSE

PLAYLIST: HIGH SCHOOL FOOTBALL WEEK 3
Watch: Red Lion quarterback discusses offseason sacrifice | 0:29
Sam Emig attended football workouts during lacrosse season in preparation for this season.
13 of 16
CLOSE

PLAYLIST: HIGH SCHOOL FOOTBALL WEEK 3
Video: Zach Keffer to take over GTPA Snapchat | 0:24
This Friday, Cedar Crest's Zach Keffer will have full access to the GameTimePA.com Snapchat. Follow us to see his full takeover. Video by Lizi Arbogast
14 of 16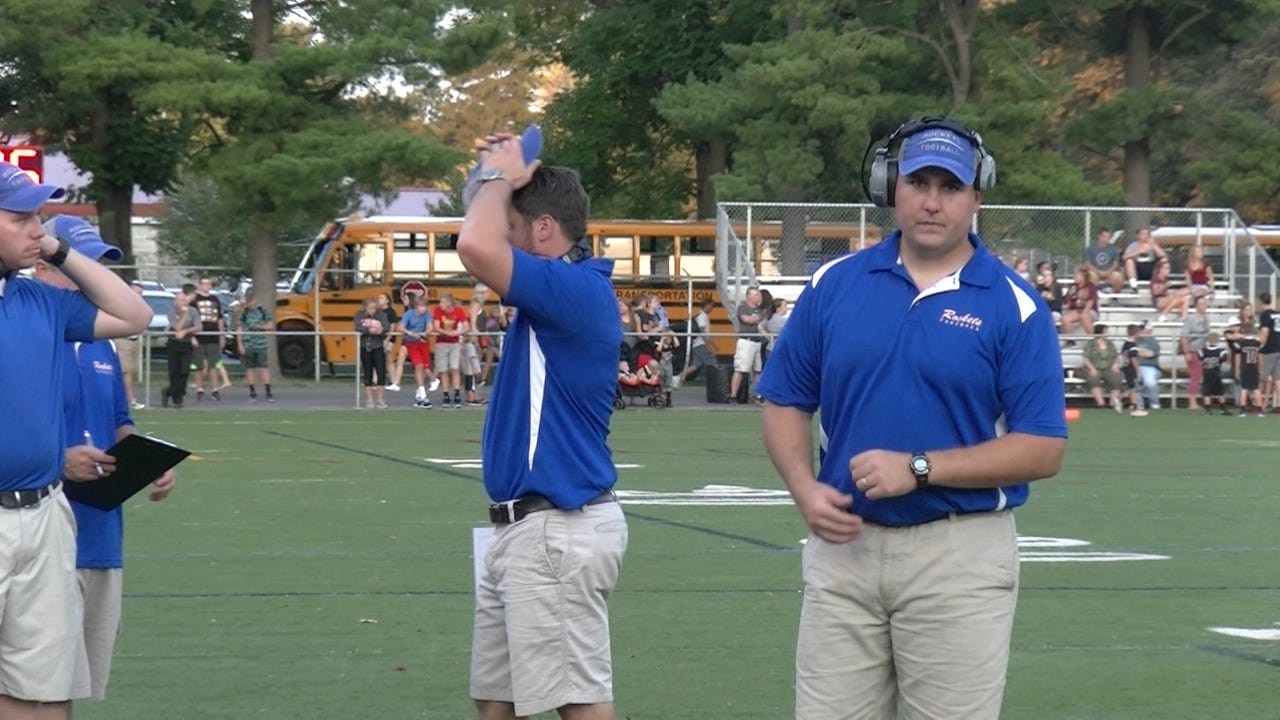 CLOSE

PLAYLIST: HIGH SCHOOL FOOTBALL WEEK 3
Watch: Spring Grove coach enjoying whirlwind season | 0:34
Spring Grove football head coach Kyle Sprenkle has had a whirlwind start to the season. His team won its opener Sept. 2. He and his wife welcomed twins into their lives Sept. 4. And Spring Grove won again in Week 2 on Sept. 9. Jim Seip, GameTimePA.com
15 of 16
CLOSE

PLAYLIST: HIGH SCHOOL FOOTBALL WEEK 3
Watch: Franklin Co.Two-Minute Drill- Week 3 | 2:04
Sports reporters Lizi Arbogast and Lindsey Smith break down the P.O. Game of the Week and Week 3 Game Changers. Video by Lindsey Smith
16 of 16
Last Video
Next Video
L-S defeats Conestoga Valley in 2016 Lampeter Bowl

Watch: Central York holds off Hempfield

Watch: Clips from Zach Keffer's GameTimePA Snapchat Takeover

Watch: Waynesboro takes down Gettysburg 38-12

Lancaster Catholic edges out Trinity, 12-10

Watch: Red Lion defeats Chambersburg

Watch: Dallastown wins "Gold Out" game

Watch: Annville-Cleona 35, Hanover 26

Watch: Susquehannock pulls away from Biglerville

Watch: Squires crash New Oxford's party, win 35-0

Watch: Pregame festivities a promising start for New Oxford

Watch: Colonials, Squires prepare for Week 3 battle

Watch: Red Lion quarterback discusses offseason sacrifice

Video: Zach Keffer to take over GTPA Snapchat

Watch: Spring Grove coach enjoying whirlwind season

Watch: Franklin Co.Two-Minute Drill- Week 3
If you throw out a 21-point opening quarter by Red Land, then Friday evening's game at Dover could look a lot different.
The Patriots were able to use two Dover interceptions and a blocked punt in the first quarter to blitz the Eagles and make off with a 38-14 win at Dover Area High School.
"I think it was almost too much, too soon," said Red Land coach Chad Weaver. "I think we got in a little rut after that. I'm never going to complain about going up 21-0, but I would have liked to have seen a little more focus and energy."
Dover (1-2) was playing without junior quarterback Alan Hansel, who was injured against Steel-High last week. Sophomore Dawson Jesmer started in his place.
Jesmer struggled in the first half, completing 6 of 14 passes for 83 yards and three interceptions. The six-foot, 165-pounder completed his first five passes in the second half and eliminated the picks.
"We are learning, we are growing," said Dover coach Wayne Snelbaker Jr. "(Red Land) is one heck of a team. They have experience. We are young. It goes back to that. We are trying to grow up fast. We are trying to find our way."
Dover's points came on the legs of 5-foot-7 sophomore Derek Arevalo. The 160-pounder, who spent most of last week's game at Steel-High with an arm in a sling, finished with 147 yards on 15 carries. He scored on a 14-yard run in the second quarter and added an 80-yard score down the right sideline in the third quarter.
Red Land (3-1) was paced by sophomore wide receiver Matt Moody and senior running back Justin Johnson.
Moody caught two first-quarter touchdowns of 25 yards each from quarterback Jake Radic. Moody added a 5-yard scoring reception in the fourth quarter.
The 5-foot-9, 195-pound Johnson bullied and steamrolled his way through the Dover defense for a game-high 186 yards on 21 carries.
"We tried to spread (Dover) out a little more early (with some five wide receiver sets)," Weaver said. "(Johnson) just runs harder than most people, that's for sure. He does some great things with the ball."
Red Land lost three fumbles, also had a punt blocked and threw an interception, but Dover managed to only score off one of those opportunities.
"It's a game of inches sometimes," Snelbaker said. "We got some turnovers and got what we wanted, but couldn't capitalize on them. We talked about that at halftime. We could have been sitting 21-21 at halftime, but instead it was 21-7."

RED LAND 38, DOVER 14
Red Land_21_0_3_14_—_38   
Dover_0_7_7_0_—_14
First Quarter 
RL -- Matt Moody 25 pass from Jake Radic (Chad Stout kick), 11:05 
RL -- Moody 25 pass from Radic (Stout kick), 4:56 
RL -- Joe Crocenzi 18 punt block return (Stout kick), 3:09 
Second Quarter 
Do -- Derek Arevalo 14 run (Zach Noll kick), 3:27 
Third Quarter 
RL -- Stout 32 FG, 10:25 
Do -- Arevalo 80 run (Noll kick), 10:10 
Fourth Quarter 
RL -- Justin Johnson 35 run (Stout kick), 11:08 
RL -- Moody 5 pass from Radic (Stout kick), 6:28
Team Statistics
 _RL_ Do
First downs_20_14 
Rushes-Yards_41-284_37-165 
Passing_6-19-1_12-24-3 
Passing Yards_91_135 
Total Yards_375_300 
Punts_0-0.0_5-25.0 
Fumbles-Lost_4-3_4-0 
Penalties-Yards_8-60_6-40
Individual Statistics
Rushing — Red Land, Justin Johnson 21-186, Jake Radic 9-70, Nathan Stahl 5-16, Michael Stank 3-11, Hunter Briner 1-5, Justin Hertzog 1-2, Jack Hertzog 1-(-6). Dover, Derek Arevalo 15-147, Brandon Lawyer 8-28, Cole Jesmer 1-14, Shaun Hinkle 1-1, William Tomes 3-(-8), Dawson Jesmer 9-(-17).
Passing — Red Land, Radic 6-19, 91 yds., 3 TD, 1 Int. Dover, Dawson Jesmer 12-24, 135 yds., 0 TD, 3 Int.
Receiving — Red Land, Matt Moody 4-75, Jaelyn Gaither 1-10, John Greene 1-6. Dover, Cole Jesmer 3-58, Arevalo 3-20, Amari Peterson 2-18, Brady Bowman 1-18, Andrew Hoffman 1-15, Hinkle 2-6.
Read or Share this story: http://gtpa.co/2ctDMBJ