CLOSE
PLAYLIST: HIGH SCHOOL FOOTBALL WEEK 3
L-S defeats Conestoga Valley in 2016 Lampeter Bowl | 2:36
After a seesaw battle, the Pioneers were able to edge the Buckskins, 35-26 on Friday, September 16, 2016. Video by John Buffone
1 of 16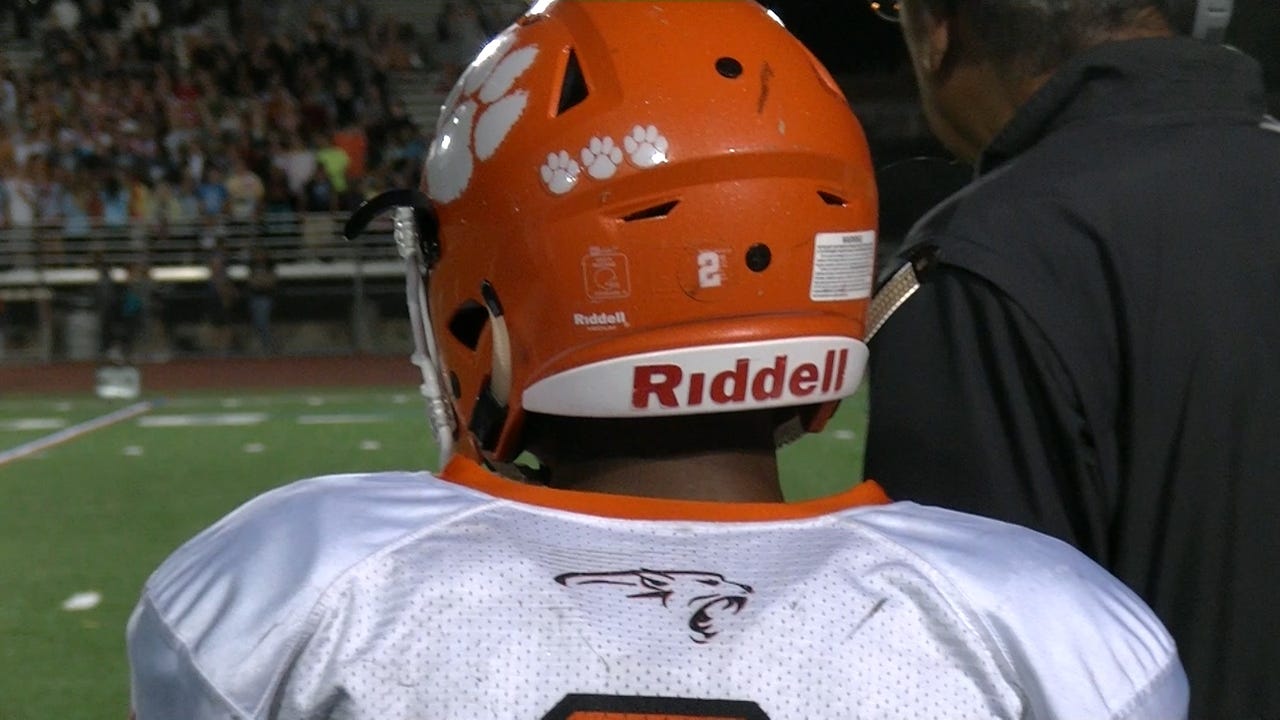 CLOSE
PLAYLIST: HIGH SCHOOL FOOTBALL WEEK 3
Watch: Central York holds off Hempfield | 1:15
Hempfield rallied from a big deficit to close within two points of Central York before the Panthers regrouped for a 48-42 win Friday, Sept. 16, 2016. Jim Seip, GameTimePA.com
2 of 16
CLOSE
PLAYLIST: HIGH SCHOOL FOOTBALL WEEK 3
Watch: Clips from Zach Keffer's GameTimePA Snapchat Takeover | 1:13
Cedar Crest's Zach Keffer takes you takes you through a day in the life of a C.C. Falcons football player. Video by Lindsey Smith
3 of 16
CLOSE
PLAYLIST: HIGH SCHOOL FOOTBALL WEEK 3
Watch: Waynesboro takes down Gettysburg 38-12 | 0:59
Check out highlights of Waynesboro's 38-12 non-league victory over Gettysburg. Video by Lindsey Smith
4 of 16
CLOSE
PLAYLIST: HIGH SCHOOL FOOTBALL WEEK 3
Lancaster Catholic edges out Trinity, 12-10 | 3:17
The Crusaders defeated Trinity, 12-10 on Friday September 16, 2016. Courtesy of LLLeagueSportsVideos.com
5 of 16
CLOSE
PLAYLIST: HIGH SCHOOL FOOTBALL WEEK 3
Watch: Red Lion defeats Chambersburg | 1:09
Red Lion downed Chambersburg 31-10 in week 3 of the high school football season. Lions' head coach Jesse Shay and quarterback Sam Emig talk about the win. Christian Arnold
6 of 16
CLOSE
PLAYLIST: HIGH SCHOOL FOOTBALL WEEK 3
Watch: Dallastown wins "Gold Out" game | 0:56
The Wildcats beat the Penn Manor Comets during a "Gold Out" game to raise childhood cancer awareness. Zach Miller, GameTimePA.com
7 of 16
CLOSE
PLAYLIST: HIGH SCHOOL FOOTBALL WEEK 3
Watch: Annville-Cleona 35, Hanover 26 | 1:34
Hanover dug out of an early hole but couldn't complete the comeback in a non-league loss to Annville-Cleona. George Marinos, For GameTimePA.com
8 of 16
CLOSE
PLAYLIST: HIGH SCHOOL FOOTBALL WEEK 3
Watch: Susquehannock pulls away from Biglerville | 0:35
Susquehannock used a second-half surge to beat Biglerville, 29-14. Tom Sixeas, For GameTimePA.com
9 of 16
CLOSE
PLAYLIST: HIGH SCHOOL FOOTBALL WEEK 3
Watch: Squires crash New Oxford's party, win 35-0 | 1:51
On a night when the New Oxford community was treated to some pregame fun, Delone Catholic focused on the game. Ryan T Provencher
10 of 16
CLOSE
PLAYLIST: HIGH SCHOOL FOOTBALL WEEK 3
Watch: Pregame festivities a promising start for New Oxford | 0:55
Food, fun and fireworks were all part of the pregame tailgate for the Week 3 matchup between Delone Catholic and New Oxford Ryan T Provencher
11 of 16
CLOSE
PLAYLIST: HIGH SCHOOL FOOTBALL WEEK 3
Watch: Colonials, Squires prepare for Week 3 battle | 1:36
New Oxford has big plans for its home opener, but will have to capitalize against Delone Catholic. Ryan T Provencher
12 of 16
CLOSE
PLAYLIST: HIGH SCHOOL FOOTBALL WEEK 3
Watch: Red Lion quarterback discusses offseason sacrifice | 0:29
Sam Emig attended football workouts during lacrosse season in preparation for this season.
13 of 16
CLOSE
PLAYLIST: HIGH SCHOOL FOOTBALL WEEK 3
Video: Zach Keffer to take over GTPA Snapchat | 0:24
This Friday, Cedar Crest's Zach Keffer will have full access to the GameTimePA.com Snapchat. Follow us to see his full takeover. Video by Lizi Arbogast
14 of 16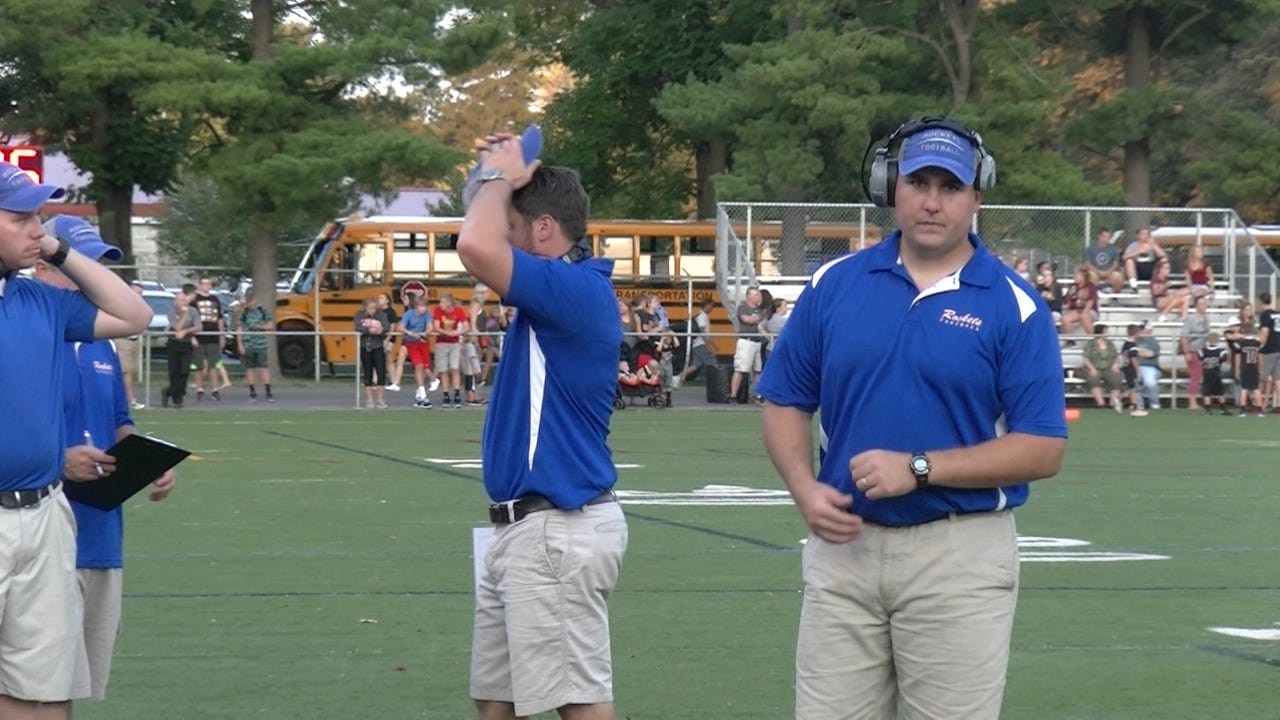 CLOSE
PLAYLIST: HIGH SCHOOL FOOTBALL WEEK 3
Watch: Spring Grove coach enjoying whirlwind season | 0:34
Spring Grove football head coach Kyle Sprenkle has had a whirlwind start to the season. His team won its opener Sept. 2. He and his wife welcomed twins into their lives Sept. 4. And Spring Grove won again in Week 2 on Sept. 9. Jim Seip, GameTimePA.com
15 of 16
CLOSE
PLAYLIST: HIGH SCHOOL FOOTBALL WEEK 3
Watch: Franklin Co.Two-Minute Drill- Week 3 | 2:04
Sports reporters Lizi Arbogast and Lindsey Smith break down the P.O. Game of the Week and Week 3 Game Changers. Video by Lindsey Smith
16 of 16
Last Video
Next Video
L-S defeats Conestoga Valley in 2016 Lampeter Bowl

Watch: Central York holds off Hempfield

Watch: Clips from Zach Keffer's GameTimePA Snapchat Takeover

Watch: Waynesboro takes down Gettysburg 38-12

Lancaster Catholic edges out Trinity, 12-10

Watch: Red Lion defeats Chambersburg

Watch: Dallastown wins "Gold Out" game

Watch: Annville-Cleona 35, Hanover 26

Watch: Susquehannock pulls away from Biglerville

Watch: Squires crash New Oxford's party, win 35-0

Watch: Pregame festivities a promising start for New Oxford

Watch: Colonials, Squires prepare for Week 3 battle

Watch: Red Lion quarterback discusses offseason sacrifice

Video: Zach Keffer to take over GTPA Snapchat

Watch: Spring Grove coach enjoying whirlwind season

Watch: Franklin Co.Two-Minute Drill- Week 3
The first chance to seal the game slipped through Max Teyral's hands. The second got knocked away by a teammate just before it fell into his arms.
So when Dallastown's junior safety got his hands on an errant throw for the third time in the fourth quarter, he made sure to make the most of it. He sprinted down the sidelines behind his teammates, then maneuvered into open space and into the end zone for a 70-yard touchdown that let Wildcat fans breath a sigh of relief.
Dallastown won the game 23-13, but early in the night it looked like the score wouldn't be that close. Zion Devance and Mike Sparks scored first quarter touchdowns to give the Wildcats a quick 14-0 lead, but they wouldn't score again until Teyral's mad dash.
Tension steadily built through the second, third and fourth quarters as Penn Manor — which hasn't won a game since Oct. 2014 — clawed back into the contest with a touchdown and four forced turnovers. But that tension evaporated the moment Teyral crossed the goal line.
CLOSE
The Wildcats beat the Penn Manor Comets during a "Gold Out" game to raise childhood cancer awareness. Zach Miller, GameTimePA.com
"Third time's a charm," Teyral said. "Everyone gave me some blocks and we were able to seal the win."
The Dallastown run game accounted for most of its offense, as the Wildcats racked up 304 yards on the ground. Devance rushed for 108 of those yards, Rodney Scott rushed for 114 and quarterback Mike Sparks rushed for 66.
The four turnovers — plus eight penalties that cost Dallastown 83 yards — kept the game close.
"That's something I challenged them with: we need to play to our expectations," Dallastown coach Kevin Myers said. "Penn Manor is a good football team, they played hard for 48 minutes and they were in that game. We didn't play Wildcat football the second, third and fourth quarters. Too many mistakes, too many turnovers, it was very uncharacteristic of a Wildcat football team. That will get fixed, there's no doubt about that."
The Wildcats start YAIAA Division I play next week as one of three undefeated teams in the division. Two teams, Central York and Spring Grove, are 2-1.
"This division is gonna be tough, there's no doubt about it," Myers said. "We're gonna have seven hard weeks, it's gonna be a battle every week."
Dallastown 23, Penn Manor 13
Penn Manor_0_0_7_6_—_13
Dallastown_14_0_2_7_—_23

First Quarter
D -- Zion Devance 17 run (Drake Pew kick), 9:19.
D -- Mike Sparks 1 run (Drake Pew kick), 4:05.
Third Quarter
PM -- Grant Gale 17 pass from Josiah Edwards (Liam Hart kick), 9:57.
D -- Safety, 5:36
Fourth Quarter
D -- Max Teyral 70 interception return (Pew kick), 4:06
PM -- Gale 9 pass from Edwards (pass failed), 0:42.
 _PM_ D
First downs_13_12
Rushes-Yards_34-52_32-304
Passing_21-29-1_3-12-1
Passing Yards_234_24
Total Yards_286_328
Punts_5-23.8_3-35
Fumbles-Lost_3-3_20
Penalties-Yards_8-71_8-83
Rushing — PM, Tony Dandridge 7-16, Evann Jones 6-13, Josiah Edwards 11-27, Theoren McElheny 8-4, Grant Gale 2-(-8). D, Mike Sparks 6-66, Zion Devance 13-108, Rodney Scott 9-114, Edgar Centeno 4-16.
Passing — PM, Edwards 20-29-234-1. D, Sparks 3-12-24-1.
Receiving — PM, Gale 4-64, Dandridge 6-28, Ben Wright 4-39, McElheny 3-45, Xavier Roman 1-9, Adam Presnell 2-21, Jones 1-28. D, Elijah Lloyd 2-10, Connor Moore 1-14.
Read or Share this story: http://gtpa.co/2d7aqN8