CLOSE
PLAYLIST: HIGH SCHOOL FOOTBALL WEEK 3
L-S defeats Conestoga Valley in 2016 Lampeter Bowl | 2:36
After a seesaw battle, the Pioneers were able to edge the Buckskins, 35-26 on Friday, September 16, 2016. Video by John Buffone
1 of 16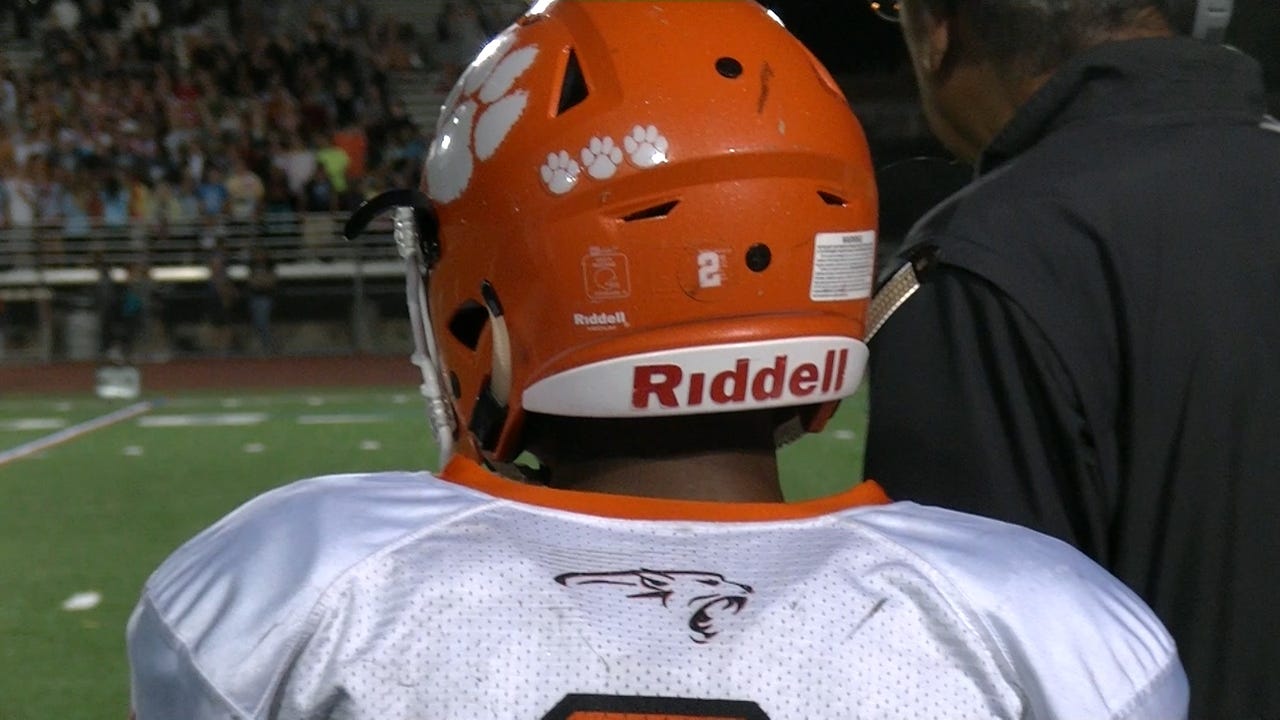 CLOSE
PLAYLIST: HIGH SCHOOL FOOTBALL WEEK 3
Watch: Central York holds off Hempfield | 1:15
Hempfield rallied from a big deficit to close within two points of Central York before the Panthers regrouped for a 48-42 win Friday, Sept. 16, 2016. Jim Seip, GameTimePA.com
2 of 16
CLOSE
PLAYLIST: HIGH SCHOOL FOOTBALL WEEK 3
Watch: Clips from Zach Keffer's GameTimePA Snapchat Takeover | 1:13
Cedar Crest's Zach Keffer takes you takes you through a day in the life of a C.C. Falcons football player. Video by Lindsey Smith
3 of 16
CLOSE
PLAYLIST: HIGH SCHOOL FOOTBALL WEEK 3
Watch: Waynesboro takes down Gettysburg 38-12 | 0:59
Check out highlights of Waynesboro's 38-12 non-league victory over Gettysburg. Video by Lindsey Smith
4 of 16
CLOSE
PLAYLIST: HIGH SCHOOL FOOTBALL WEEK 3
Lancaster Catholic edges out Trinity, 12-10 | 3:17
The Crusaders defeated Trinity, 12-10 on Friday September 16, 2016. Courtesy of LLLeagueSportsVideos.com
5 of 16
CLOSE
PLAYLIST: HIGH SCHOOL FOOTBALL WEEK 3
Watch: Red Lion defeats Chambersburg | 1:09
Red Lion downed Chambersburg 31-10 in week 3 of the high school football season. Lions' head coach Jesse Shay and quarterback Sam Emig talk about the win. Christian Arnold
6 of 16
CLOSE
PLAYLIST: HIGH SCHOOL FOOTBALL WEEK 3
Watch: Dallastown wins "Gold Out" game | 0:56
The Wildcats beat the Penn Manor Comets during a "Gold Out" game to raise childhood cancer awareness. Zach Miller, GameTimePA.com
7 of 16
CLOSE
PLAYLIST: HIGH SCHOOL FOOTBALL WEEK 3
Watch: Annville-Cleona 35, Hanover 26 | 1:34
Hanover dug out of an early hole but couldn't complete the comeback in a non-league loss to Annville-Cleona. George Marinos, For GameTimePA.com
8 of 16
CLOSE
PLAYLIST: HIGH SCHOOL FOOTBALL WEEK 3
Watch: Susquehannock pulls away from Biglerville | 0:35
Susquehannock used a second-half surge to beat Biglerville, 29-14. Tom Sixeas, For GameTimePA.com
9 of 16
CLOSE
PLAYLIST: HIGH SCHOOL FOOTBALL WEEK 3
Watch: Squires crash New Oxford's party, win 35-0 | 1:51
On a night when the New Oxford community was treated to some pregame fun, Delone Catholic focused on the game. Ryan T Provencher
10 of 16
CLOSE
PLAYLIST: HIGH SCHOOL FOOTBALL WEEK 3
Watch: Pregame festivities a promising start for New Oxford | 0:55
Food, fun and fireworks were all part of the pregame tailgate for the Week 3 matchup between Delone Catholic and New Oxford Ryan T Provencher
11 of 16
CLOSE
PLAYLIST: HIGH SCHOOL FOOTBALL WEEK 3
Watch: Colonials, Squires prepare for Week 3 battle | 1:36
New Oxford has big plans for its home opener, but will have to capitalize against Delone Catholic. Ryan T Provencher
12 of 16
CLOSE
PLAYLIST: HIGH SCHOOL FOOTBALL WEEK 3
Watch: Red Lion quarterback discusses offseason sacrifice | 0:29
Sam Emig attended football workouts during lacrosse season in preparation for this season.
13 of 16
CLOSE
PLAYLIST: HIGH SCHOOL FOOTBALL WEEK 3
Video: Zach Keffer to take over GTPA Snapchat | 0:24
This Friday, Cedar Crest's Zach Keffer will have full access to the GameTimePA.com Snapchat. Follow us to see his full takeover. Video by Lizi Arbogast
14 of 16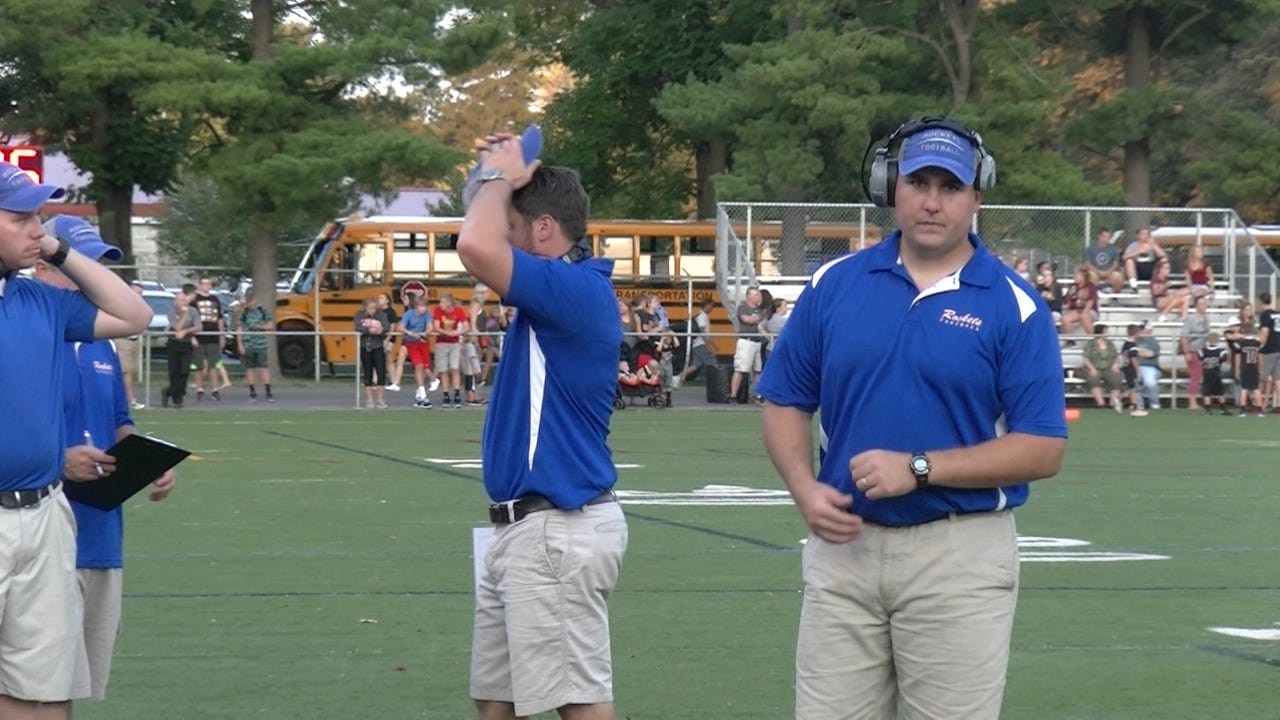 CLOSE
PLAYLIST: HIGH SCHOOL FOOTBALL WEEK 3
Watch: Spring Grove coach enjoying whirlwind season | 0:34
Spring Grove football head coach Kyle Sprenkle has had a whirlwind start to the season. His team won its opener Sept. 2. He and his wife welcomed twins into their lives Sept. 4. And Spring Grove won again in Week 2 on Sept. 9. Jim Seip, GameTimePA.com
15 of 16
CLOSE
PLAYLIST: HIGH SCHOOL FOOTBALL WEEK 3
Watch: Franklin Co.Two-Minute Drill- Week 3 | 2:04
Sports reporters Lizi Arbogast and Lindsey Smith break down the P.O. Game of the Week and Week 3 Game Changers. Video by Lindsey Smith
16 of 16
Last Video
Next Video
L-S defeats Conestoga Valley in 2016 Lampeter Bowl

Watch: Central York holds off Hempfield

Watch: Clips from Zach Keffer's GameTimePA Snapchat Takeover

Watch: Waynesboro takes down Gettysburg 38-12

Lancaster Catholic edges out Trinity, 12-10

Watch: Red Lion defeats Chambersburg

Watch: Dallastown wins "Gold Out" game

Watch: Annville-Cleona 35, Hanover 26

Watch: Susquehannock pulls away from Biglerville

Watch: Squires crash New Oxford's party, win 35-0

Watch: Pregame festivities a promising start for New Oxford

Watch: Colonials, Squires prepare for Week 3 battle

Watch: Red Lion quarterback discusses offseason sacrifice

Video: Zach Keffer to take over GTPA Snapchat

Watch: Spring Grove coach enjoying whirlwind season

Watch: Franklin Co.Two-Minute Drill- Week 3
Entering Friday's game against Garden Spot, Spring Grove had allowed a combined nine points in its first two games. Its defense ranked fourth in the YAIAA for fewest yards allowed.
Meanwhile, the Spartans' leading rusher, Jahad Jeffers, was in street clothes on the sidelines, missing the game with an injury.
So on paper, things looked good for the Rockets.
But after Spring Grove's first drive of the game stalled after 11 plays and a turnover on downs, the Spartans quickly responded. Garden Spot quarterback Cameron Roth raced up the right sideline on the visitors' first play on offense, scoring from 78 yards out to give the visitors the early lead.
Roth was just getting started for the Spartans, who upended the Rockets, 35-13, to hand Spring Grove its first loss of the season. Garden Spot also played without leading tackler Brock Kauffman.
"We thought they were going to be full power and it was kind of a shock to see them, especially their leading running back in a boot," said Rockets head coach Kyle Sprenkle. "They have a really nice team without (Jeffers) and I think they are even more powerful with him."
Garden Spot (2-1) adjusted by relying more on the players that the Spartans had available.
"It was 'next guy up.' It's cliché, but it's the truth in this game," Spartans head coach Zach Fulmer said. "I was proud of our guys, because we asked a lot of some guys."
The Rockets (2-1) tied the score just one time. That came in the first quarter when Eric Glass scored from 9 yards out with 2:42 left in the opening period. Two plays earlier, Glass kept the drive alive on a third-and-12 by catching a 50-yard pass from quarterback Nick Shaqfeh.
The final Rockets score wouldn't come until the fourth quarter, when Shaqfeh connected with Brady Stein on an 81-yard touchdown pass. In between, it was a frustrating night on offense for Spring Grove, which threw three interceptions and fumbled twice, but recovered both times.
"We have been slow to start the last couple of weeks," Sprenkle said. "We played a much better team this week and we were able to recover from that slow start in weeks prior, but when you're playing a quality team like Garden Spot, it was difficult for us to get back on track."
The Spartans led 21-7 at halftime. After the teams exchanged interceptions to open the third quarter, Garden Spot went on a 15-play drive that took nearly six minutes off the clock.
Garden Spot capped the drive when Roth hit Austin Wanner from 2 yards out for the score with 3:36 to play in the third quarter and push the visitors lead to 28-7.
Roth accounted for a total of 122 rushing yards and 119 yards passing. He threw for two scores and rushed for two more.
Shaqfeh threw for 185 yards, one touchdown and three interceptions.
Garden Spot's Clayton Dimon picked off two passes in the game.
Both teams start divisional play next week, with Dallastown coming to Spring Grove and Garden Spot hosting Solanco.
Garden Spot_7_14_7_7_—_35
Spring Grove_7_0_0_6_—_13
First Quarter
GS -- Cameron Roth 78 run (Kyle Willwerth kick), 5:59
SG -- Eric Glass 9 run (Drew Gordon kick),  2:42
Second Quarter
GS -- Joe Craver 18 pass from Roth (Willwerth kick), 10:37
GS -- Roth 1 run (Willwerth kick), 2:42
Third Quarter
GS -- Austin Wanner 2 pass from Roth (Willwerth kick), 3:36
Fourth Quarter
SG -- Brady Stein 81 pass from Nick Shaqfeh (kick failed), 8:23
GS -- Mac Focht 32 run (Willwerth kick), 3:41
._GS_ SG
First downs_13_7
Rushes-Yards_35-240_37-59
Passing_9-19-2_5-12-3
Passing Yards_119_185
Total Yards_359_244
Punts_3-25.6_4-28
Fumbles-Lost_0-0_2-0
Penalties-Yards_4-25_2-20
Individual Statistics
Rushing — GS, Cameron Roth 19-122, Mac Focht 8-80, Austin Wanner 8-38. SG, Ryan Daugherty 4-4, Nick Shaqfeh 11-9, Anthony Beddia 4-18, Braden Brandt 7-14, Eric Glass 7-10, Trent Baker 4-4.
Passing — GS, Roth 9-19. SG, Shaqfeh 5-12.
Receiving — GS, Focht 3-37, Joe Craver 2-39, Gary Clark 2-31, Wanner 1-2, Zackary Ringler 1-10. SG, Connor Reed 1-29, Glass 2-48, Beddia 1-27, Brady Stein 1-81.
Read or Share this story: http://gtpa.co/2ctGneS